Lucia Ybarra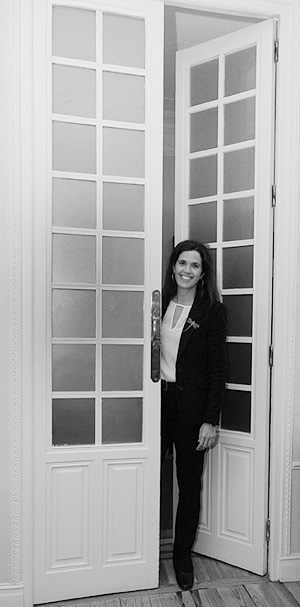 Lucía Ybarra in the office at Calle Almagro 38.
Co-director and founding partner of YGBART since 2012. Vicepresident Factoría Cultural. Creative Industries Hub, Matadero-Madrid. Ybarra has developed her career over the last sixteen years at the Reina Sofía Museum (MNCARS) in Madrid, where she was chief exhibition coordinator and chief liaison officer for touring exhibitions (1995-2011). Over this time she played an influential role in securing many projects with other museums both in Spain and worldwide, and has worked directly with some of the world's leading contemporary artists and curators.

Worth underscoring are exhibitions such as Thomas Schütte, Paula Rego, Leon Golub, Dorit Margreiter, George Vantongerloo, Eulalia Valldosera, Andre Masson, R.B. Kitaj, Louise Bourgeois, Jannis Kounellis, Paul Strand, Jacques Lipchitz, Lucio Fontana, Eduardo Arroyo, Oscar Domínguez, and Las Formas del Cubismo: escultura y vanguardia. In 2001 she also curated Cocteau y España held at MNCARS and oversaw the conception and direction of the exhibition catalogue.

Ybarra also pens essays for exhibition catalogues and regularly contributes articles and interviews to the art and culture section of the El Correo Español newspaper.

Before her stint at MNCARS, she worked as assistant director at Estampa, the International Print and Contemporary Art Editions Fair.

She also collaborates with Fundacioacute;n Arte y Mecenazgo in a research project into private collecting in Spain and drawing up reports on the Spanish art market.

After graduating with a degree in the History of Art from Universidad Complutense in Madrid, Ybarra went on to take further courses in modern and contemporary art at the Guggenheim Museum in New York and also at the Peggy Guggenheim Museum in Venice.